She wants to peek in on the social life of her love interest whom she is realistic about. She is a student of Tarot Verbatim, so she asked me to enlarge on the application of the individual cards.
.
P. S.  I was engaged in delivering a 3-card spread, the usual analysis this site provides, and my word processing program decided to declare war and lose the document, so lost the techs could not find it in the cloud.  (Friends don't let friends buy Dell.)  And, yes, I am now going through all those lessons I have written for you, more than 200 pages of them now, hoping to launch beginning in August.  So save your pennies for me.

My question:  What is going on between my love interest and his "friend"?
.
Ten of Wands – Seven of Cups – Ten of Pentacles
This is a relationship that is part of membership in a circle of mixed-up, dysfunctional, or screwed-up people, and it has lasted as long as it has precisely because it is not real and is out-of-control. These are three heavy cards, and they amplify one another. This looks like a hang-out that is deteriorating:
People who are, or who have, a problem. A circle of troubled folks. Trouble with other people, and other people are trouble. A complicated relationship. Accursed relatives, coworkers, neighbors, friends or associates. – Ten of Pentacles
Out of control, mixed-up, makes no sense, disorganized, messed-up … don't know WHAT to do with it. – Seven of Cups
… to the extreme. For a long time or it drags on forever. Too much. Tired of this. Depressing. Overwhelmed. ['Overwhelmed' picks up Seven of Cups' 'don't know what to do with this' meaning.] Ten of Wands maximizes its stable-mates, so it maximizes the group of mixed-up people. – Ten of Wands
.
.
Five of Swords – Ace of Pentacles – Ace of Cups
There's a rivalry situation going on, and your man is winning with this woman's cooperation. I am picturing office workers in a largish company, or even a pool hall, and some dame is the queen of the chics, so anyone she talks to has bragging (or strutting) rights in the social order.
Your person of interest is pictured as the bastard in Five of Swords, which also means rivalry – guys fighting for domination.
Ace of Pentacles is the main card for success, and for reward.
Ace of Cups is 'the cooperation of' and going along with something. Yes, it's the true love card, but not with Five of Swords hanging around.
.
.
Eight of Cups – Hierophant – Nine of Pentacles
She has a life of her own without him. She is in her own world, minding her own business. Nothing official here, and physical contact has been cut off.
Nine of Pentacles – A woman minds her own business. She has a life, is in her own private world, and he isn't part of it. She don't need nobody.
Eight of Cups and
Hierophant – Hierophant is the 'real physical world, what shows, the official story, the paper thing, and commitment. It is also things being normal, harmless, and clean. Put it next to Eight of Cups and you add 'not anymore' to all of those. So they are not an item – it was over with before it began – or they are not an item anymore. Eight of Cups is 'outta there,' off the road, derailed and aborted.
.
.
Queen of Cups – Magician – Hermit
She sees him as a fellow who does things for her, and as someone who is a friend and not sexual.
Queen of Cups – She thinks of her man, or her view of anything, including a fellow. It's about her view.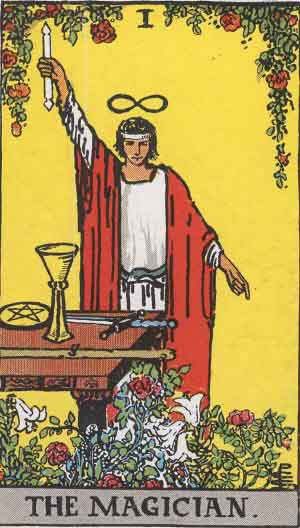 Magician – male who acts. What he does. The guy takes the initiative.
Hermit – A friend who helps. Someone who doesn't have sex (or is monogamous or devoted (but not in this story: Five of Swords is definitive.)
Magician takes the initiative; Hermit comes to the other person. These two suggest he comes to her, she does not come to him. Nine of Pentacles supports that idea.
Notice out of 12 cards, there's nothing about sex, and there are indications of not being sexual. Even an explanation for that: the membership in the crew. Bragging rights.
.
If I am correct about her being the queen of the crew, he isn't her guy but a hanger-on. Are they having some kind of casual sexual contact? – maybe, but nothing 'official.'
.
Once again, according to Tarot, she isn't the reason your love interest isn't with you, unless his whole world is the office or pool hall place, whatever it is, and he sublimates sexual feelings into being somebody in this herd. (He is not the herd bull, I am sure.)
Illustrations from the Rider-Waite Tarot Deck®, known also as the Rider Tarot and the Waite Tarot, reproduced by permission of U. S. Games Systems, Inc., Stamford, CT 06902 USA. Copyright ©1971 by U. S. Games Systems, Inc. Further reproduction prohibited. The Rider-Waite Tarot Deck® is a registered trademark of U. S. Games Systems, Inc.
The entire contents of this website are Copyright © 2017. All rights reserved. This site may not be copied in whole or in part except for the inclusion of brief quotations in a review without the express written permission of the publisher. All violators will be prosecuted to the fullest extent of the law.
NOTICE – Anyone found copying Tarot Verbatim's™ website or using Tarot Verbatim's™ trademarked/copyrighted text and/or images without Tarot Verbatim's™ express written consent by Emily Sandstrom will be reported to their billing company, their hosting company, and any other related companies or necessary parties for account closure. Tarot Verbatim™ will also follow with a copyright infringement lawsuit in accordance with the Digital Millennium Copyright Act (DMCA).
read more